March 28">

March 28, 2000
Hometown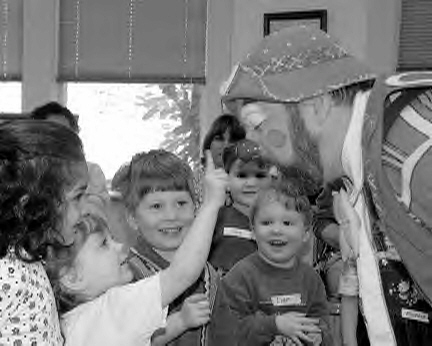 Everybody loves a clown
BJ the clown entertains children of all ages with humor and high-jinks
By Kim Dillon
Post-Record Staff Making American memories by sending in the clowns, circus entrepreneur P. T. Barnum is noted as saying, "Clowns are pegs used to hang circuses on."

The Ringling Brothers, Barnum and Bailey Circus utilized the American circus clown to provide comic relief between sets, relieving the audience of the dramatic tension created by the never-before-seen, death-defying acts endearing to traditional circus performances.

But big top or small town, circus or no circus, clowns work hard to get a laugh or three. Providing fans with belly-laughs is a tough job. It is also an adventure when one's audience just happens to be under three-feet tall.

As part of the Parent / Tot Enrichment classes offered through the Camas Parks and Recreation Department at the Camas Community Center, located at 1718 S.E. Seventh Ave., children ages three to five, accompanied by their parents, took part in a hilarious, foot-stomping, hand-clapping, belly-busting interactive program entitled "BJ the Clown: Let's Clown Around."

Children were entertained with preschool-level developmental activities that focused on reinforcing the names of colors, parts of the body, counting, motor skills, and taking turns. Dressed in street clothing and sans makeup, BJ, a.k.a. Bret Christie of Portland, Ore., gave each of the 16 children in attendance a small picture of himself wearing his registered clown face (yes, clown identities are protected), to facilitate a discussion about which colors should adorn various parts of his face.

Youngsters not only watched BJ transform into his colorful clown personality, they helped him, stamping rosy red face paint onto his cheeks, powdering his face with an old gym sock filled with talcum powder, and dusting off the loose powder with a turquoise blue feather duster. BJ's physical comedy produced thunderous giggles and broad-reaching smiles as the funny one made strange and wonderful mouth noises whenever kids got powder or feathers in his mouth.

Transforming before their very eyes with makeup, BJ then showed the kids his "real clown nose," demonstrating how he attaches it after the glue, painted on his own nose, dried, forming a sticky adhesive.

Digging through a costume trunk, BJ produced the trademark clown shoes, dangling them in the air for everyone to see. When finally decked-out for clowning, BJ donned clown pants and jacket, silly socks, big shoes, a bow tie, a hat, and white clown gloves, which he used as a slapstick prop.

"I like gloves," he said, putting one on, "they keep your hands warm and they let you hold balloons," he said cheerfully. But the ribbon attached to the bouquet of helium-filled balloons he brought into the act kept slithering through the slippery fabric encasing his hand, as the multicolored latex army charged its way toward the ceiling.

Then he told the kids that to keep the balloons from floating away one must wear two gloves and use two hands. Again, the ribbon snaked through his gloved fingers to the amusement of all the guests, at which point he encouraged the kids to help him tell the balloons they had to stay in "time-out," a popular parental tactic used for misbehaving children in which they must stay in a designated location until further notice. But the balloons did not obey, and the children went wild.
"You balloons stay there," said BJ, when they reached a comfortable resting point in the corner of the room. And they did just that while he continued to entertain with tricks involving magically cutting a five-foot-long pink balloon in half – without popping it – using special oversized, yellow plastic clown scissors.

Engaging his charges in a clapping and dancing game to music that he played on a multicolored squeeze box, BJ the Clown had kids grooving with goofy instructions like "pat your head" and "cry like a baby," humor which the kids seemed to enjoy tremendously.



For the rest of the story or for more photos, pick up a copy of the March 28 issue of the Camas-Washougal Post-Record.

BJ the Clown
503-282-2000
PO Box 55604
Portland, Oregon 97238

Celebrating 12 years & 3000 performances!
Exciting comedy Shows – Magic – Games – Balloon Art Facepainting – Puppets – Music – and More!
Experience & reliability you can trust!
Email: bjclown@aol.com

Serving the Portland and Vancouver Metro area including Beaverton, Tigard, Hillsboro, Tualatin, Lake Oswego, Milwaukie, Gresham, Camas, Oregon City, Willsonville, Canby, and most of Salem.